We're a not-for-profit comedy club, hosted every week by Toby Hadoke, and eagerly maintained by a group of minions who do his bidding on a regular basis.
We're a bunch of comedy geeks who have been running a weekly comedy night since 1997 just for the hell of it. We all have full-time jobs outside of the club, but we do XS Malarkey because we enjoy watching live comedy. You could say we're a bit obsessed.
All of Toby's band of merry Malarkians were regular XS Malarkey audience members before becoming part of the furniture. Lee joined XS Malarkey in 2001, Ros and Mike in 2003, Jon in 2013, and Joe is our latest addition, joining us in 2016.
Despite the low door price, we put on shows with professional comedians and rising stars of the comedy circuit, also giving newcomers a chance to practise their material in front of a supportive and quite frankly fantastic audience, many of whom are just as obsessed with comedy as we are. We feed our audience's comedy obsession by running a membership scheme charging a ludicrously cheap £3 per ticket. We don't do group discounts, because to be honest - we're cheap enough already 🙂
We started as "Murphy's Malarkey" at Scruffy Murphy's pub in Fallowfield in 1997. After gaining a regular crowd, we moved a few metres down the road to Bar XS, where we stayed for many years until the bar closed down. After a couple of temporary homes around Fallowfield, and heading into the city centre, we settled at The Pub/Zoo, which is where we are today!
Stay in touch with us on Facebook, Twitter, Instagram or via our mailing list. We won't spam you with nonsense, we won't share your details with anyone, we'll just keep you updated about the stuff we're up to, posting a few silly things along the way. Plus there's the chance to win 2 free tickets every week if you join us on Facebook or Twitter.
Toby, Lee, Mike, Ros, Jon, Hannah and Joe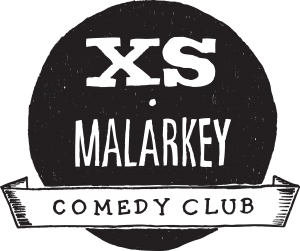 "XS Malarkey's non-profit ethos, and commitment to supporting both the absolute beginners and rising stars of the circuit, and allowing them to share the stage with heavy hitters and experienced acts is still the top of the agenda here, in firm opposition to the money-making focus of many of its rivals…a night that loves its audience just as much as the acts they present" – The Skinny ★★★★
"Arguably Manchester's best regular comedy club" – Giggle Beats
"Best bargain night out in Manchester . Five top comics for a laughable entry fee" The Guardian Guide To Manchester
"The best comedy club in the country is also one of the cheapest" – BBCi
"Highly recommended – a strong tradition of pulling off pretty incredible bookings" – Time Out
"This thoroughly fine comedy club goes from strength to strength – and is still a bargain." – Kevin Bourke, Manchester Evening News